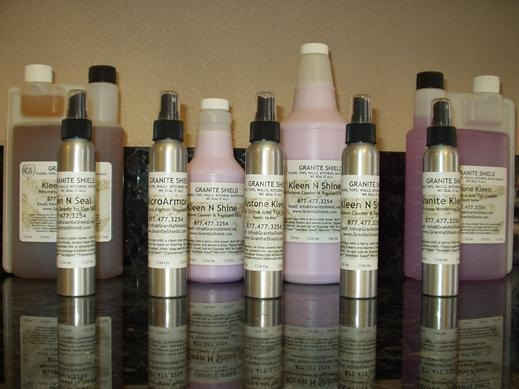 Here's a great testimonial about the Granite Shield permanent sealing process by Alyssa Palmer:
"Dear Granite Shield,
I had my kitchen countertops treated with Granite Shield in March 2010 and just wanted to write you to tell you how happy I am that I got them done.
When I first moved into my new home in February, my countertops were disgusting. There was grease, sealant, dirt, dust, food and Lord knows what else on them. I tried everything to try and clean them and nothing seemed to work. I was so upset and frustrated because instead of enjoying my first home, all I was doing was scrubbing granite. It got to the point where I wanted to nothing more than to rip them out.
Realizing that I could not afford new countertops though, I was desperate to find a company or a product that would not only clean, but seal my granite as well to prevent this from happening again. A quick search on the internet brought me to the Granite Shield website. I read the testimonials, watched the videos and immediately called to get someone out to my house. Within days the owner of the company, Craig Phillips, was at my door to treat my counters. As I watched him work, I was amazed at how this product effortlessly cleaned all the grime that I had spent almost a week scrubbing. The process only took a couple of hours to do my entire kitchen and when he was finished, the countertops looked like they were brand new and felt amazingly smooth.
Months later, they are still gorgeous and I show them off every time someone new comes to my house. I always recommend Granite Shield to everyone I know or meet that has granite in their home. I love no longer having to worry about harmful bacteria in my granite or spending long periods of time and effort cleaning it. In fact, it takes me less than a couple of minutes each day to quickly wipe them down and they look the same as they did the day I got them treated. Granite Shield is such a peace of mind because I know that my granite is taken care of and it is one less thing that I have to ever worry about. Thank you so much!"
Alyssa Palmer
Granite Shield
Products
Granite Shield Permanent Sealer
877-477-3254
Info@GraniteShield.net
www.GraniteShield.com
Granite Shield Product Line to Maintaining Hard Surfaces for Home and Other Surfaces
In Case Item Won't Go Into Shopping Cart - How to Enable Browser Cookies
If you are unable to place items in the shopping cart due to a computer cookie sensitivity please email us at Info@GraniteShield.net product code, quantity, along with your contact information including zip code and we'd be more than happy to email you an invoice to purchase items directly from the email invoice bypassing the shopping cart.
Terms and Conditions: All orders are custom, freshly made and bottled for each order to have the highest quality. Orders are in the order received and non refundable for any reason. Due to the nature of our products, we do not accept any refunds. All sales are final. Due to trade secrets and chemicals being able to be diluted sealers to seal natural stone and hard surfaces in the home, sealing chemicals, do it yourself kits and cleaning products are non refundable. If your order includes a seal book and instructions how to seal it will come as a PDF file and will be emailed to you including videos when your order is shipped. To be green and save trees instructions are emailed to the email address that was inputted when product was ordered. Videos are to show techniques how to seal, the videos are not the instructions. When it doubt or have questions please send us an email and we will be happy to answer your questions. Before sealing you should read instructions. If you do not receive the email containing the seal book instructions please check your spam folder or junk mail. After checking your inbox, spam folder or junk mail and you can't locate your seal book instructions please send us an email and include your order number at info@GraniteShield.net and we will be more than happy to resend the email.
Copyright 2010
All Rights Reserved
Granite Shield is a registered trademark
Kleen N Shine, Kleen N Seal, Kleen N Shield, Granite Kleen, MicroArmor, Silicabright, Pro-Armor, Pro-Premier, Crystasheen, Armor, Nustone Kleen, Premier, Ultra Seal, Stone Shield, Krete Shield is a trademark and/or registered trademark of Granite Shield.